Eagle Soaring Academy Opens!
After a year of planning and market testing ESM is pleased to announce the opening of its Eagle Soaring Academy, a branded training initiative, for aspiring entrepreneurs. The academy will feature a mix of traditional classes, conference calls, webinars, and eventually online courses for business owners and entrepreneurs of all backgrounds and educational levels.


Exclusive Source for E3 Training
Eagle Soaring Academy will bring the nationally recognized and uniquely developed So You Want To Be An Entrepreneur Professional Development series to its clients and partners. Based on the E3 Philosophy utilized by E3 Business Group, Inc. this curriculum has impacted over 5000 entrepreneurs since its inception in 1995. To view current offerings please click the Academy link and invest in your business success. New courses and opportunities will be added throughout the year so be sure to bookmark it as a favorite!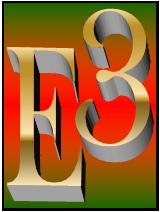 ESM Acquires E3 Business Group
Eagle Soaring Management is honored to announce that as of January 2, 2017 it will be the official managing owner of E3 Business Group, Inc. E3 is an internationally recognized, membership based organization which provides focused support, training, and events for aspiring entrepreneurs. The organization was founded in 1993 and currently supports over 1000 entrepreneurs from 0 - 16 years in business in 18 cities in the Americas, Canada, and Europe.

E3 was founded by ESM Chief Executive Officer Anthony M. Butler, Sr. and is a Strategic Alliance Partner with the U.S. Small Business Administration and local partner with over 50 corporations, city governments,and community based organizations.

"I am excited to finally bring completion to a vision I had nearly 25 years ago." comments Butler "To have a vehicle for entrepreneurship as the core of a company focused on strategic development for small business just makes sense"

E3 Business Group, Inc. will continue to operate as its own entity under Eagle Soaring Management Inc. Eagle Soaring will begin expanding the reach of E3's signature "So You Want To Be An Entrepreneur" Professional Development Series and incorporate proven training content into a variety of projects. The first true collaboration will be the Eagle Soaring - Call of Eagles where new techniques developed by Butler will be combined with proven methodologies from E3 for a unique 52 week conference call for leaders, aspiring entrepreneurs and small business owners serious about moving forward in 2017. For more info click the links for E3 Business Group, E3 Training, or Call of Eagles.

Call of Eagles Online
Available to callers worldwide! Excitement is high and people are calling from around the globe for the this uniquely designed call. Indivuduals have embarked on a weekly journey for your collective best. Each week Mr Butler is sharing insights, access and relationships to push you and your business forward. Each week will include detailed, PROVEN, action steps designed to move you to the next level EVERY 7 DAYS. Imagine if you had made progress every week for an entire year... 2017 can be your time to soar!

Click on Call of Eagles link to register for the call.


CEO Shares "E3 Networking" in Florida

Building Entrepreneurs into Eagles
ESM is a minority/veteran owned firm committed to showing entrepreneurs and organizations their path to a higher level of success. We don't have a lot of fancy statements. Our focus is to allow our high level efforts to meet your high level expectations.

For aspiring entrepreneurs who are looking to move forward we provide strategic sessions which move them forward, address challenges, and seek to strengthen their overall productivity.

In addition we take on a limited amouont of clients who we represent on a national level. 10 Eagles (all of our clients are top risers) in order to remain balanced and strategically sound. We thank you for visiting and welcome your questions. You may be our next Eagle... only you know if you are ready to SOAR.


Product Development & Positioning
Logistical Management
SOAR Sessions
Strategic Consulting Packages
Professional Development
888-525-2299 x120
IWantToSoar@eaglesoaringmgmt.com